PackLite Titan 2-in-1 Power Lantern
The Titan 2-in-1 Power Lantern is our newest and most powerful product. Featuring all-new design innovations, including Red Light Mode for night vision and a Twist-to-Inflate design. Take it camping, or add one to your emergency kit -- just in case.
With a maximum brightness of 300 Lumens, the Titan can light your campsite. With 100 hours of runtime, you can depend on it for extended power outages or off-grid expeditions.
With an extra-large 4000mAh battery, the Titan can charge most phones 2-3 times or even power your tablet. Compatible With: iPhone & Android Charging Port: USB-A (compatible with USB-C through an adapter)
Color: White and Red Phone Charging? Yes 4000mAh battery Runtime: 100 Hours Brightness: 300 Lumens Weight: 12.5oz Storage Life: 2+ Years For more detailed specs, visit our Compare Products page.
FREE U.S. Shipping over $99!
NEW!
Twist-to-Inflate
The Titan features an all-new twist-to-inflate design -- easily open and close it by hand!
NEW!
Red Light Mode
The Titan is our first product to feature an integrated Red Light Mode for night vision. Red light is gentle on your eyes and great for night vision or reading after dark.
Read the Design Story
Learn more about how we developed the Titan. Based on 10 years of user feedback and technological innovation.
Compare Specs
See how the Titan's next-level features stack up against the rest of the LuminAID product line.
Customer Reviews
Trudy M.

Canada
05/26/2022
Awesome light!
This PackLite Titan 2-in-1 Power Lantern is the ultimate! I love it! We use it in our RV when we are dry camping. Very bright and great that we can charge our devices with it. I highly recommend!
Hi Trudy, so true! A must-have lantern for all emergency kits!
Kathy H.

United States
05/14/2022
Wonderful product!
Excellent! This was our third purchase of the PackLight Titan 2-in-1 Power Lantern. It's essential in a power outrage. I love this light!
Michael A.

Canada
05/14/2022
Beautiful and effective lights
We love these lights! We have a good number of them and use them every night for low lighting our home at night and out on the balcony on the fifth floor. Great intensity if you need bright light and great low lighting so we couldn't be happier and have been using and buying these lights since the company first opened! Such a fantastic invention thank you LuminAid!
Hi Michael, that's great news! I'm super happy our lanterns are coming in so handy!
Jay

United States
05/14/2022
Great product
It has worked well and does what I needed it to do.
Joseph T.

United States
05/09/2022
Didn't expect to need them this quickly
Was camping this past weekend, electricity at campground went out at 6A for 9 hours, it was coolish (40 degrees F), and raining, so gloomy. Used the lights to light the interior of the RV, did I have to? Nope, I had 12v battery power with good batteries in the RV BUT it was a great test of these items, they ran to light up the kitchen so I could conserve the on-board batteries for other things that needed them. 9 hours and the small one, got to half used, the larger ones oly used at most a quarter of their battery life. Highly recommend these.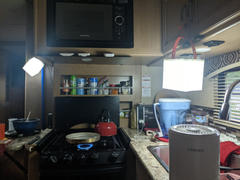 Hi Joseph, that's great! I'm glad our lanterns served you well so that you could preserve your Rv lights!