The Perfect Camping Lantern for Any Adventure
MOST POPULAR
PackLite Titan 2-in-1 Power Lantern
View Product
PackLite Max 2-in-1 Power Lantern
View Product
Solar Lanterns
View Product
When you're exploring the great outdoors, you don't want to be weighed down by bulky gear. LuminAID's solar lanterns are the perfect size to clip to your pack. Light up your tent at night, and charge in the sun during the day. Stay connected off-grid with our solar lantern phone chargers, which can light up your campsite and also charge your phone. Learn more about our top lights for camping below.
High-Quality Gear that's Made to Last
When you're going off-grid, make sure you have a reliable source of light and power. LuminAID's intuitive design makes it easy to light up your tent and campsite at night, and conveniently charge in the sun during the day -- no batteries needed.
Construction, brightness, and size are all factors to consider when looking at camping lanterns. In addition to performance, durability is also incredibly important. LuminAID lanterns pack flat to just 1" thick, are 100% waterproof, dustproof, and even float.
Need bright LED light at your camping site?
Our best-selling light: the PackLite Max 2-in-1 Phone Charger provides up to 150 lumens of bright LED light on Turbo mode. On a single charge, the light can run for 50 hours on Low mode or recharge your phone 75-100%. The perfect device to meet your lighting and power needs.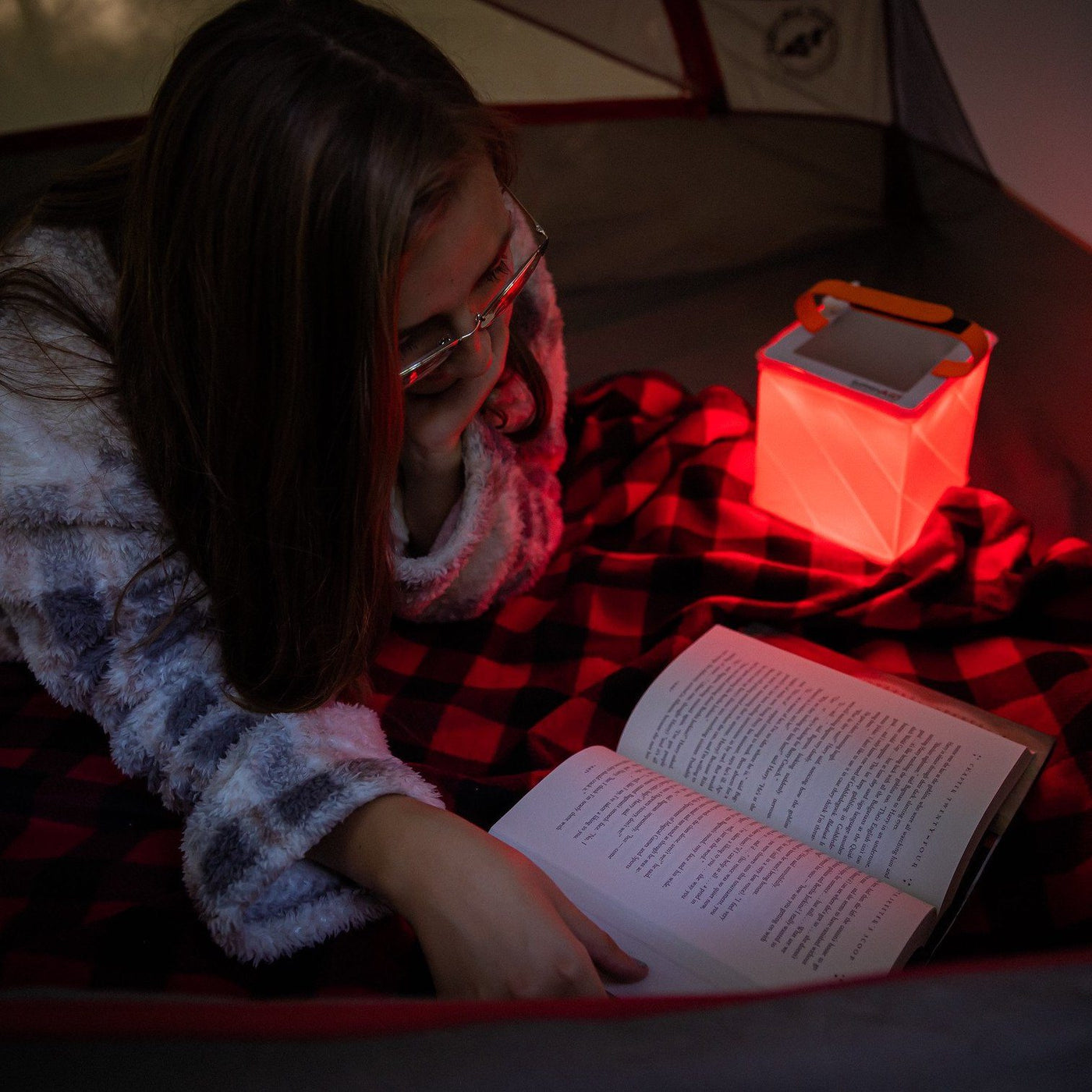 Night Vision Red Light
Titan 2-in-1 Phone Charger is our newest product, the PackLite Titan 2-in-1 Phone Charger, is the go-to gadget for your lighting and charging needs. With new features like the red light mode for night vision and an expanded solar panel for faster charging, the Titan makes it easier than ever to travel light.
Simple Camping Lantern
Nova USB our most compact light at just 4.75 cubic inches, the PackLite Nova USB provides up to 75 lumens of bright LED light, on Turbo mode, and runs for up to 24 hours on Low mode. While it does not charge phones, it weighs only 5 ounces, making it a great option if you already have a portable battery pack, and need some extra light for your tent or van
"My new light is awesome, received it and used it on a scout camping trip with my boys. They think it's the coolest thing. Lasted all weekend with no problems."
Mike B.