There are more phones than people in the world. And after a disaster, your phone is now one of your most critical survival tools. When we invented the PackLite Max 2-in-1 Phone Charger (2000mAh internal battery), we were solving for a humanitarian need, and pushing the outdoor industry forward with a new category: inflatable 2-in-1 phone charger lanterns.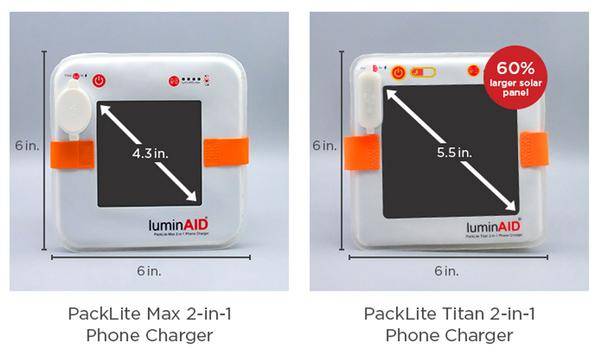 Over the past few years, phone batteries have gotten bigger and bigger. One of our key goals for the PackLite Titan was to offer users a battery pack that could recharge most phones 2-3 times on the go. The 4000mAh battery inside the Titan does just that, but we didn't stop there. We completely redesigned the port and top interface of the lantern to make room for a 60% larger solar panel. With more surface area to soak up the sun, the Titan charges faster so you don't have to sacrifice convenience for the extra power storage.


Battery Sizes in LuminAID Lanterns
| | | | | |
| --- | --- | --- | --- | --- |
| |  Solar Lanterns | PackLite Max 2-in-1 Phone Charger | PackLite Hero 2-in-1 Supercharger | PackLite Titan 2-in-1 Phone Charger |
| Battery Size | 1000mAh | 2000mAh | 4000mAh | 4000mAh |
| Charges Phones? | No | Yes | Yes | Yes |
Not sure whether you need the PackLite Max (2000mAh) or PackLite Titan (4000mAh)?
Here are some questions to help you decide:


When are you recharging your phone?
That is to say, are you normally charging your phone up completely (from close to 0% battery), or just topping it off when it runs low? Most people don't let their phone die before they recharge it, so if you're more likely to top off your phone battery, you can get plenty of charges on-the-go with the PackLite Max.
How long will you go before recharging your phone charger's internal battery?
If you're planning to be off-grid for days at a time, you might want the peace of mind that the Titan's 4000mAh battery provides. You can charge most phones 2-3 times before needing to recharge the battery inside the Titan. If you're just looking for a back-up charger when you go on a day hike, or to keep in your emergency kit, the PackLite Max should more than cover your needs.

How big is the battery in your phone or tablet?
If you've got an especially big battery in your phone, or if you're using a tablet, then the PackLite Titan will get you more coverage. For reference, an iPhone 5 has a 1,440mAh battery, while the Samsung Galaxy S3 has a 2,100mAh battery.
Still not sure? We might be biased, but we love the new design features of the PackLite Titan. Check out how fast and easy it is to inflate: